(Hey, I'm BUSY! So, I'm reposting this "classic" from July of 2008. Like you're so great!)
As ridiculous as it may seem announcing a new House of Glib feature during a period where my output can justifiably be called "Pathetic," I'm going to do so anyway, because that's just the way this playa plays the game (holla!). For the past little while I've been finding my attention increasingly diverted by what many would consider the worst and most lamentable films in the Bad Movie Pantheon, but in which I have started to find increasing amounts of comfort and solace. Given the amount of time I've been spending with these films, it seems only right to start documenting them for the enjoyment of all of the Googler's who've come here in search of "Superfriends Porn" or "Sophie Simmons Breasts" and since every House of Glib feature needs a slick, fancy name, I have decided to dub this latest venture:
Project Kinda-Gay
That's right folks, these posts are all about musicals, but not any kind of musicals. No, we're talking about the most twisted, terrible, hilarious, wonderful, demented musicals of all time—Bad Seventies Musicals! But before we can get started let me provide you with this helpful FAQ:
Q) What is a Bad Seventies Musical?
A) A bad musical made in the 1970s, duh.

Q) Is That It?

A) Well, no, it is more complicated than that.

Q) How So?
There's a special kind of cheesiness that one must achieve to be considered a Bad Seventies Musical. For example take Martin Scorsese's
New York, New York
. It was made in the seventies, is a musical and—to all but a few stubborn contrarians who refuse to accept that El Maestro has ever been capable of an obvious self-indulgent failure—isn't very good. Yet despite the fact that it is—technically speaking—a lowercase bad seventies musical it is not an uppercase Bad Seventies Musical, since Scorsese's skill and natural sense of good taste keep it from achieving the level of pop-culture hilarity that is necessary for it to merit the proper capitalization.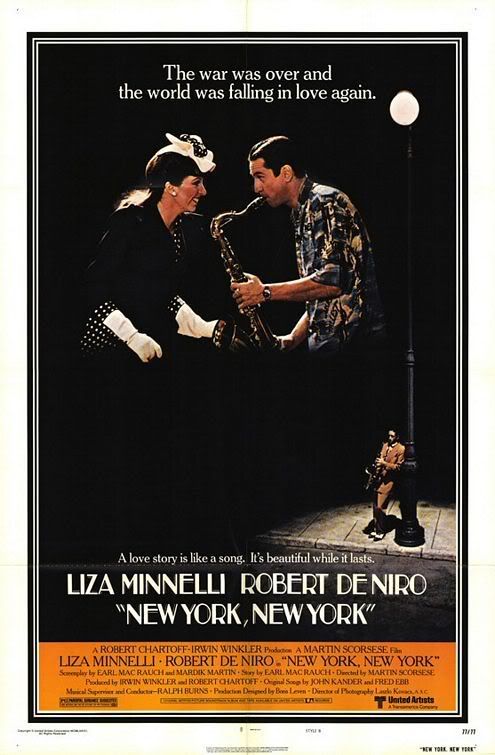 Q) Is There Anything Else?

A) Of course there is.

Q) Like What?

A) To start off with, in order to be considered a Bad Seventies Musical, a movie doesn't actually have to be bad or made in the 1970s.

Q) WTF? Are You Crazy? That Totally Contradicts Your Answer To The First Freaking Question!

A) No, it's true. Take Tommy for example. It was nominated for a whole bunch of Oscars, got great reviews and is considered by many to be a classic, yet it can also be considered one of the best examples of the form. No matter how well respected it is, any musical that features a scene of Ann-Margret writhing orgasmically in a sea of baked beans is the epitome of everything a Bad Seventies Musical represents.

Q) And What About Movies Not Made in the Seventies?

A) The term Bad Seventies Musical refers as much to a state of mind as it does to a specific period and by that standard there are many films produced in the 1980s that must be considered Bad Seventies Musicals. In fact (and I haven't checked this out, but it certainly seems true) there might actually have been more Bad Seventies Musicals made in the 80s than in the 1970s.

Q) Then Why Don't You Call Them Bad Eighties Musicals?

A) Because that would be retarded.

Q) You Mentioned That These Movies Are All Inherently Cheesy. Can You Go Into Any Better Detail Than That?

A) I could, but I think that after the first couple of entries, you'll start noticing the overall pattern. It's probably best to just end this charade and start talking about the movie this post is supposed to be about.

Q) Which Is?

A) A 1980 (see, told ya!) roller disco classic starring the chick who put on tight, slutty leather pants to turn on a greaser, a young Warrior and some old guy who once starred in the greatest musicals ever made, but still somehow ended up in this.

Q) Oh God…You Don't Mean—?

A) Yes! It's: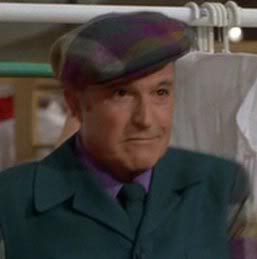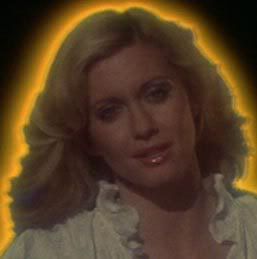 Sonny, a struggling artist, is walking along Venice Beach when he is randomly kissed by a beautiful, blond, roller-skating muse named Kira. During his attempts to find the beauty he runs into Danny McGuire, a rich, old dude who spends his time playing the clarinet on the beach, remembering the days when he was a big band leader at his own nightclub in the 1940s (where he too once received the attention of a beautiful, blond muse). Wanting to relive his glory days, Danny decides to open a new nightclub and asks his new artistic friend to help him find the perfect building for it. Drawn to a dilapidated old wrestling arena by the muse who kissed him earlier, Sonny convinces Danny it's the perfect place for the nightclub, while he also falls in love with the blond babe in wheeled shoes. For the first time in her existence, Kira reciprocates an artist's love, even though she knows such feelings are forbidden by her father, Zeus. Breaking Sonny's heart, she returns to her otherworldly home, where he manages to find her. Forced back into the mortal realm by Zeus, Sonny arrives at the grand-opening of his and Danny's new roller disco palace, Xanadu, certain he will never know true love again, unaware that the gods work in oh-so mysterious ways.
WHENEVER YOU'RE AWAY FROM ME
OLVIA NEWTON-JOHN AND GENE KELLY
OLIVIA NEWTON-JOHN AND CLIFF RICHARD
OLIVIA NEWTON-JOHN AND THE TUBES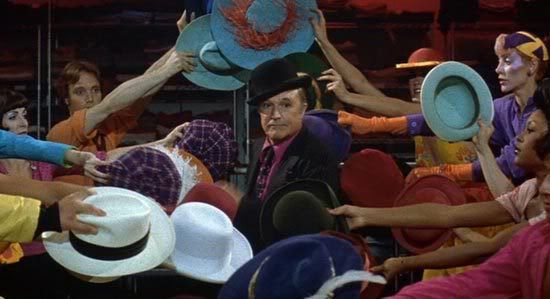 OLIVIA NEWTON-JOHN AND ELECTRIC LIGHT ORCHESTRA
While in the future there shall be films that test the boundaries of what can be truly considered a Bad Seventies Musical, Xanadu is definitely not one of them. No, it truly is an archetypal example of the form and from it one can devise a handy checklist by which all other examples can (and will) be judged.
1) Insultingly Simple Plot:
I've gone on record many times as being one of the worst synopsizers in the history of humankind. Once in an email to a friend, I actually took 750 words to describe a 725 word story I had written (which is actually a fairly admirable achievement if you think about it). That said, the fact that I could accurately sum up all of the events in Xanadu in the one medium-sized paragraph found above shows you how little story the filmmakers felt they needed to justify this collection of songs and dance numbers. This simplicity is an essential part of every Bad Seventies Musical--if you actually have to spend any time thinking about the plot, you are watching something else, no matter how bad, how musical or how seventies it may be.
2) Hilariously Tacky Production and Wardrobe Design:
The standard here is not to judge the film's overall design aesthetic by today's modern standards, but instead by the standards of good taste that existed when the film was actually being made. Even though the 1970s is considered by most people to be the stylistic nadir of the 20th Century (followed closely by the one that came immediately after it), one should be careful not to assume that the tackiness on display in a Bad Seventies Musical was actually considered acceptable when it was produced. This is especially true of Xanadu, whose crimes against design were just as heinous the day it opened as they are today. One need only consider the scene where Gene Kelly and the gang go to a "modern" clothing store and his dignity takes such a beating one has to literally close their eyes, cover their ears and repeat "Singin' in the Rain, On the Town, An American in Paris and It's Always Fair Weather," over and over again until it finally ends.
3) Music That Makes You Question Your Own Judgment:
The score of a Bad Seventies Musical must walk a narrow line. On the one hand, it must be memorable enough that you'll find yourself haunted by at least one of its songs until the day you die, while on the other hand it must be misguided enough that even its most ardent defender wouldn't go so far as to insist that it is genuinely good. The music of a Bad Seventies Musical sounds as though it might have actually once been good, but has been made much less so as the result of the demands of the production. Again, few films illustrate this with better clarity than Xanadu. Days after watching the film, you'll find yourself unconsciously humming the tunes to "I'm Alive", "All Over the World", "The Fall" and "Xanadu" while at the same time wishing you could find Jeff Lynne and give him the ass-kicking your conscious mind tells you he deserves.
4) Annoying Retro Touches:
As a misguided attempt to mitigate its crimes against good taste, a Bad Seventies Musical will often look back to the past for touches of old school glamour. But rather than elevate the production, these retro touches inevitably serve to only remind the viewer how much better the musicals of the past actually were. No sequence in the history of the genre better illustrates this than Xanadu's "Dancin" number, in which the worst excesses of the 1940s and 70s are wedged together into a union that only serves to degrade and humiliate them both. Some films choose to also reach for this nostalgic goodwill through the stunt-casting of celebrities whose best years are famously behind them. Xanadu takes this approach to the highest possible level by casting one of the genre's two biggest legends (Fred Astaire at that point being too old to even credibly play an old, rich dude), with the result that younger viewers are left wondering why they have to watch Grandpa gliding around on roller skates, while older viewers are reminded that there are certain things a person should not be allowed to do once they've reached their declining years.
5) An Appalling Sense of Waste:
All of the best Bad Seventies Musicals leave the viewer with the impression that what they are watching led (justifiably or not) to the destruction of more than one show business career. Whether it's a once-promising newcomer who never received the second-chance they deserved or an actual star who never recovered from the damage the film did to their reputation, there should at least be one person involved in the production for whom you feel a tremendous amount of pity, certain that they did not deserve to have their trajectory halted by "this." In that vein, did you know that the only mainstream Hollywood feature film Olivia Newton-John starred in after Xanadu was the unfortunate John Travolta Grease-reunion project
Two of a Kind
, which despite featuring many of the key attributes of the genre, cannot be considered a Bad Seventies Musical due to its lack of music?
Now comes the section where I blatantly ignore everything I've previously written in this post, so I can argue that--despite what you may think--your life really isn't truly complete until you've sat down and watched this crappy movie starring the world's blondest faux-Australian (no, really, she was born in England.
Look it up
if you don't believe me--I was just as shocked and devastated as any right-thinking person would be), one half of
Houston Knights
and the legend whose
last
few
roles
serve as textbook examples of why celebrities should just enjoy their retirement years like Johnny Carson did--playing tennis and slowly dying of smoking-related emphysema.
Having spent the last year closely dissecting the Roller Disco movie phenomenon that briefly threatened the world during the last throes of the "Me Decade" (that is to say I watched this and
Roller Boogie
, while dreaming of the day I could get my hands on a copy of
Skatetown USA
), I wish I could say that in them I have found some grand metaphor for existence that suggests a sub-textual profoundity that rises them above the level of faddish exploitation, but I can't. Created only as a means to chase a quick buck (foolishly so in the case of
Xanadu
, which immediately went down in history as one of Hollywood's more infamous financial disasters, despite its spawning a hit soundtrack), these films were not designed to be of the ages, but rather to be immediately consumed and immediately forgotten. Yet here we are, 28 years later, and we can't get the stupid things out of our heads.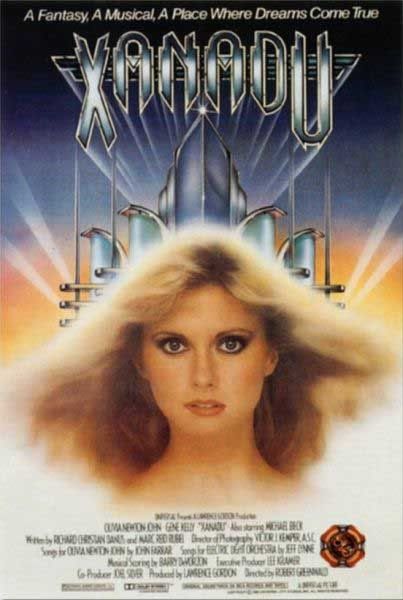 Xanadu
like all Bad Seventies Musicals is important because its failure is so impressive it resonates within us long after we have experienced it. A mere mediocrity can be forever consigned to oblivion, but a true disaster can never really go away--it will always linger and the longer it does, the more we are able to forgive its brazen flaws and appreciate its subtle charms. The lesson then is obvious--fail modestly and you'll vanish without notice, fail egregiously and you just might achieve cultural immortality. Don't believe me? Last year, some folks saw fit to mount a
stage version
of
Xanadu
, resulting in a hit Broadway show that was nominated for four Tony Awards and the release of the "Magical Music Edition" DVD that I purchased two weeks ago, spurring me to write this post.
When Kira appears in mortal form at the film's end, her metamorphosis goes unexplained. The filmmakers hope that we will not question her inexplicable appearance because they are giving us the happy ending they correctly assume we desire, and as crass and lazy as this may be, this denouement serves as an ironic counterpoint to the film's ultimate fate. In choosing love, Kira forgoes immortality and a life spent inspiring artists to create their greatest works, while the producers of Xanadu chose commerce (their every creative choice based not on what felt right, but rather on what they thought would sell) and unwittingly created a lasting work destined to inspire future creators. And while I'm not necessarily sure this is a good thing, it does allow us the comfort of knowing that it is possible to someday see your past mistakes be, if not redeemed, then at least made to seem a little less terrible.
(IN WHICH THE FATES OF THE GUILTY ARE REVEALED)
In 1984 the film's director,
Robert Greenwald
, treated us to another infamous movie starring an iconic blond when he made the then-controversial TV movie
The Burning Bed
, which featured a battered Farrah Fawcett barbecuing an abusive Paul Le Mat on the titular piece of furniture. Today he is better known as the liberal documentarian behind the muckraking features Outfoxed and Walmart: The High Cost of Low Prices.
Choreographer
Kenny Ortega
gained fame as the man who made Swayze move in Dirty Dancing and parlayed this success into a seemingly mediocre directing career that has suddenly grown hot due to the success of his High School Musical franchise.
Producer Joel Silver went on to earn his fortune making Action Jackson, Road House, Hudson Hawk and Fair Game (as well as Die Hard, Lethal Weapon, The Matrix and Kiss Kiss Bang Bang) and in so doing tied Robert Evans and Harvey Weinstein's records for most parodied and mocked film producers of all time.
Olivia Newton-John got
"Physical"
and made one more (previously mentioned above) bad movie before she accepted her destiny of being rediscovered every six years or so by young girls exposed to the questionable glories of Grease.
Michael Beck revisited his famous role of Swan in 2005's video game recreation of The Warriors.
And, finally, Gene Kelly did what all aging celebrities must eventually do--he died ten years after everyone had already assumed he was dead.